Sudan Sanctions
U.S. Treasury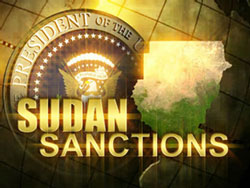 United States Department of the Treasury
Office of Foriegn Assests Control
OFAC has issued a Statement Of Licensing Policy, which establishes a favorable licensing regime through which U.S. persons can request from OFAC specific authorization for the commercial exportation or reexportation of U.S.-origin agricultural equipment and services to an area of Sudan other than the Specified Areas of Sudan.
From the U.S. Treasury Press Room
Other Useful links:
Adobe Reader
All downloadable documents on this page are provided in PDF format. To view PDFs you must have a copy of Adobe Acrobat Reader. You may download a free version by clicking the link above.